What is Action Dimension?
Edit
This Wiki is about the game Action Dimension or AD which is recognized as a RPG game. Action Dimension has over 10,000+ monthly users and is continuing to grow. It is free to play and no download is necessary. You can play paintball, soccer, tennis and chat with friends while customizing your suite and personalize your own avatar. Currently there are 3 servers the International, Deustch, and one on Kongregate. The international server is the first and most populated server in this game. Whereas the Deustch and Kongregate servers are still fairly new. We are hoping for cross-server accounts but there is currently no news for it.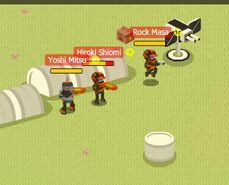 The Game Modes 
Edit
Paintball is the most popular game mode in AD. As for Soccer and Tennis they are lacking due to the "classic nature" of the game. While most games include varies items to equip, soccer is the only game that does not have any equips. Note: The cleats sold in Power Mall 1 does not equip in soccer matches. Paintball is divided up into 4 different modes.
The World Map
Edit
The main form of quick navigation through the areas of the game. The World Map includes the 3 Game Modes listed above and certain places in the Action Dimension world. It includes PowerMall 1, PowerMall 2, City Center, Residence Suites, Plastic Surgery Clinic, Island and Hidden Island. These places have their own special trademark spots. Come, explore and find out what they are!
Teleport To Buddy
Edit
It is a function located under buddy list. Supposedly it can be used to teleport instantly to the current location of a friend. However when clicked, it states "The teleport function is disabled for bugfixing. It will be functional again soon." Currently as of 2014 it is still disabled.
Latest activity
Edit


Photos and videos are a great way to add visuals to your wiki. Find videos about your topic by exploring Wikia's Video Library.